May 22, 2021 through September 26, 2021
2021 Donation Drive
May 22, 2021
My fellow German-Americans: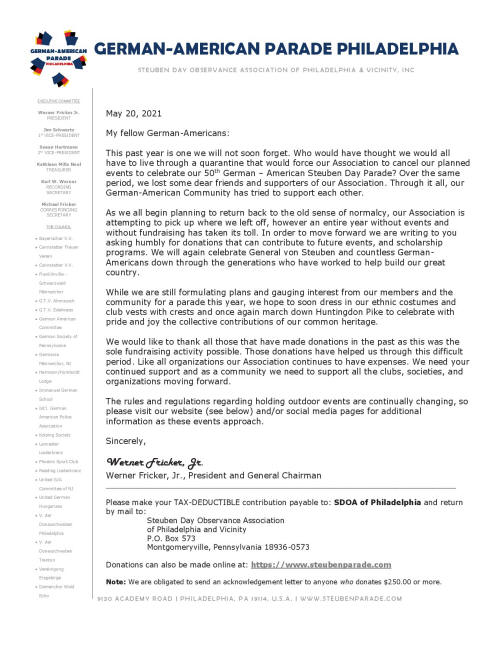 This past year is one we will not soon forget. Who would have thought we would all have to live through a quarantine that would force our Association to cancel our planned events to celebrate our 50th German – American Steuben Day Parade? Over the same period, we lost some dear friends and supporters of our Association. Through it all, our German-American Community has tried to support each other.
As we all begin planning to return back to the old sense of normalcy, our Association is attempting to pick up where we left off, however an entire year without events and without fundraising has taken its toll. In order to move forward we are writing to you asking humbly for donations that can contribute to future events, and scholarship programs. We will again celebrate General von Steuben and countless German-Americans down through the generations who have worked to help build our great country.
While we are still formulating plans and gauging interest from our members and the community for a parade this year, we hope to soon dress in our ethnic costumes and club vests with crests and once again march down Huntingdon Pike to celebrate with pride and joy the collective contributions of our common heritage.
We would like to thank all those that have made donations in the past as this was the sole fundraising activity possible. Those donations have helped us through this difficult period. Like all organizations our Association continues to have expenses. We need your continued support and as a community we need to support all the clubs, societies, and organizations moving forward.
The rules and regulations regarding holding outdoor events are continually changing, so please visit our website (see below) and/or social media pages for additional information as these events approach.
Sincerely,

Werner Fricker, Jr., President and General Chairman
---
Please make your TAX-DEDUCTIBLE contribution payable to: SDOA of Philadelphia and return by mail to:

Steuben Day Observance Association
of Philadelphia and Vicinity
P.O. Box 573
Montgomeryville, Pennsylvania 18936-0573

Donations can also be made online at: https://www.steubenparade.com
Note: We are obligated to send an acknowledgement letter to anyone who donates $250.00 or more.
Please consider using the button below to make your online donation via PayPal.