Floral Symbol
The Cornflower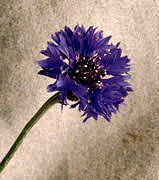 The Cornflower, the floral symbol of the German - American Parade, has significance far beyond the event with which it has become inseparably identified. It is in fact the national emblem of the German-American community. The cornflower is found in the grain fields throughout the old country, mingled with the ripening grain, side by side with the red poppy, brightening the scene everywhere throughout the long summer months. Hence the name "Kornblume", is translated into English as "Cornflower".

While it is not an American native flower, it is widely cultivated in gardens, especially by German Americans. It is also known under the names of "Bluebottle" and "Bachelor's Button" (botanically by the name "Centaurea cyanus"). The beauty of the flower's deep, pure blue is most attractive and symbolizes truth and loyalty - qualities which have long been ascribed to the German people.

From an American viewpoint, the Cornflower is most fitting as it matches the blue of our Star Spangled Banner which is clearly evident when it is worn with red and white ribbons, comprising the emblem of the Steuben Parade. There is no finer badge, and it is worn with pride and appreciation.